Happy Holidays from ACMP!
Tuesday, December 20, 2016 (0 Comments)
Posted by: Kristina Miller


Happy Holidays from ACMP!

Season's greetings and happy holidays from ACMP! We hope you and your family have a safe and happy holiday season.

ACMP wants to give a warm thank you to our members for joining us throughout the year in events, webinars, volunteer activities and more. We have accomplished so much and look forward to 2017 being a year of many opportunities to lead the way change works with you!

Remember, for presents not found under the tree, register for #ACMP2017,  become a member of ACMP or complete your application for the Certified Change Management PractitionerTM certification.

 

Call for Volunteers! Apply December 16 – January 10

Are you interested in making connections and working with other Change Management practitioners? Would you like to help lead the way change works by getting involved in the planning of ACMP's future? ACMP committees and task forces provide our members opportunities to make an impact on our rapidly growing and successful organization.

Why do ACMP members volunteer? Why do some committed individuals continue to volunteer year after year? Watch this short video that answers "Why I Volunteer."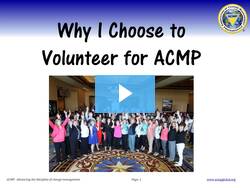 ACMP offers opportunities with committees and task forces. If you would like to volunteer, please visit ACMP's Volunteer Central. You will find a list of committees, task forces and a link to apply on that page. We appreciate our volunteers and look forward to working alongside you!
CCMPTM Brings Value & Strong Credibility to Your Career
We understand pursuing a designation can be a difficult decision. You may be considering the time commitment involved with studying, finding the time to schedule and sit an exam and maintaining your certification. We assure you that the effort is worth it, check out why below:
 The CCMP is valuable to you, because it…
Professes your knowledge and experience to your peers and the market
Aligns you with an international standard related to the work you do
Enhances career prospects and gives you an asset in competitive situations
Raises awareness of the profession in your market
Provides certification with a credible, rigorously developed program
Demonstrates your commitment to personal career growth and professional development
These values for your career give CCMP strong credibility. Developed carefully according to strict guidelines set out by both ISO and ANSI, and based on The Standard® which was also developed in line with ISO standards, you can feel assured that you are investing in a quality product.
Ready? Apply here
Workshops… They're Not Just for Santa's Elves
'Tis the season before Change Management 2017, and ACMP is preparing you with pre and post-conference workshops before and after your time in New Orleans to give you the latest industry information.
All workshops are provided by ACMP Qualified Education Providers™ (QEPs), so whether you are interested in how to navigate cultural change or decode organizational culture, every session will be a thorough teaching to expand your knowledge.
Click HERE to register or receive more details.
Spread Some Sponsorship Cheer!
It's not too late for your organization to be part of Change Management 2017! With customizable packages, we can design a plan that works for you and your business.
For additional information, visit our sponsorship page.
ACMP Welcomes the Germany Chapter!
ACMP is pleased to announce the addition of our newest chapter- ACMP Germany! The leaders, Rainer Dunkel and Gerald Kimmel are active and anticipating a great year ahead. Dunkel said, "We are excited about this and very much look forward to accelerate activities in 2017!" Be sure to visit their site to learn more about their chapter and activities. ACMP welcomes this new chapter and we hope to meet our Germany members at upcoming events in 2017!
Chapter Events

Washington D.C. Chapter
Strategies for Driving Change in Government Under a New Administration
January 12, 2017 8:30 am to 10:00 am
3110 Fairview Park Drive, Suite 1100
Falls Church, VA

Texas Chapter
Member Appreciation & Open House

Austin: Chez Zee - 5406 Balcones Drive Austin, TX 78731 Weds, Jan 18, 2017 - 7:00pm - 8:30pm


North Texas: Center for Brain Health - 2200 W Mockingbird Land Dallas, TX Thurs, Jan 19, 2017 - 6:00pm-7:30pm


Houston: J Black's - 110 S Heights Blvd. Houston, TX 77007, Thurs, January 19, 2017 - 5:30pm - 7:30pm


San Antonio: Pappasito's Cantina - 10501 Interstate 10 Frontage Rd, San Antonio, TX - 11am